Books
ADDIS ABABA: A MANIFESTO ON AFRICAN PROGRESS
DIRK E. HEBEL, FELIX HEISEL, MARTA H. WISNIEWSKA, AND SOPHIE NASH IN COLLABORATION WITH BISRAT KIFLE, ZEGEYE CHERENET MAMO, AND FASIL GIORGHIS, RUBY PRESS, BERLIN 2018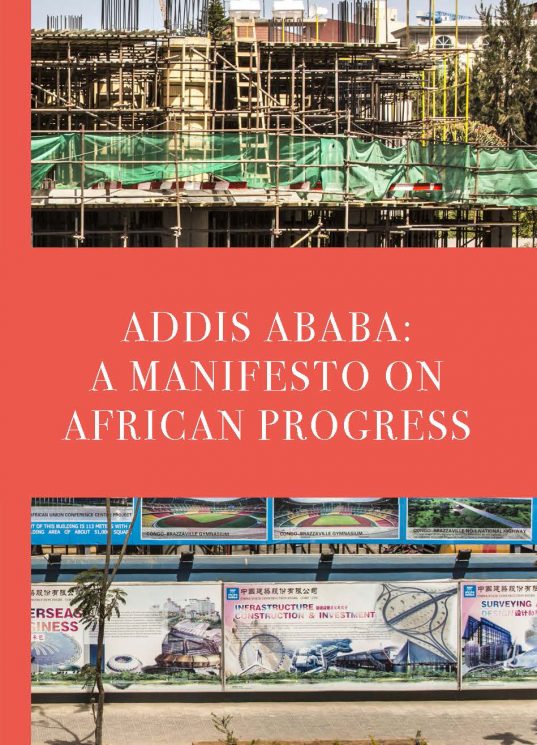 With its population on track to double to more than 8 million over the coming decade, Addis Ababa is one of Africa's fastest growing cities. The rapid construction and sometimes existence-threatening relocation of millions of people within the city is challenging the urban organism to its extreme. In connection with huge public infrastructure programs, a massive building program and agenda changes the physiognomy, the political landscape, the social composition and the cultural understanding and identity of one of the biggest cities of the African continent at a breath-taking speed.
Against this backdrop of challenges Addis Ababa: A Manifesto on African Progress examines the Ethiopian capital as a case study in advocating an alternative architecture of belonging in times of a rapid urbanization to be witnessed not only in Ethiopia. Following a short history of the city's development, the authors offer 12 manifesto points stressing the importance of local culture and community building in creating the contemporary African metropolis. A final section includes proposals for new housing projects aimed at forging a more-sustainable architecture and urbanism with a focus on local conditions, people, and skills. Photos by Thomas Aquilina, Flurina Rothenberger, and Marta H. Wisniewska.
avaialble at Ruby Press Berlin.
TABAKSCHUPPEN HAYNA, DESIGN STUDIO PUBLICATION SUUMMER 2018, 01/09
HEBEL, DIRK E., DANIEL LENZ, MANUEL RAUSCH, SONJA STEENHOFF IN COLLABORATION WITH THE BÜRGERSTIFTUNG HAYNA, KARLSRUHE 2018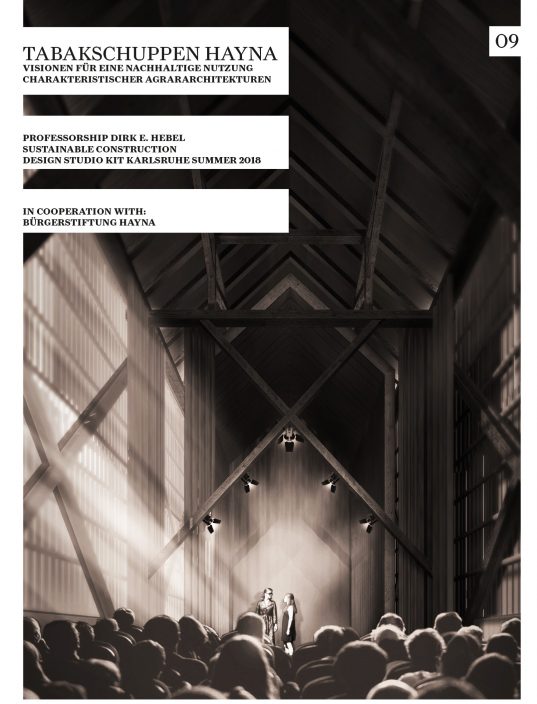 The publication presents the results of a design and research semester on agricultural heritage typologies of tobacco cultivation in the municipality of Hayna / Pfalz at the Chair of Sustainable Building Prof. Dirk E. Hebel at the Karlsruhe Institute of Technology (KIT). The work was carried out in close collaboration with the Community Foundation and citizens of the municipality Hayna as well as scientists of the KIT from the areas of structural engineering, building physics, building preservation and building economics. The studio dealt with the central themes of social, economic and ecological sustainability, the conscious use of resources and the question of existing social and cultural values ​​and related identities. The educational structure of the studio required that the students deal critically, self-confidently, tolerantly and, above all, responsibly within the given framework conditions as well as the historical dimension of the project. The instrument of active participation in the study program was tested in order to guarantee and increase the mutual exchange and understanding of the individual participants through communication and information.
available at: nb.ieb.kit.edu
CULTIVATED BUILDING MATERIALS: INDUSTRIALIZED NATURAL RESOURCES FOR ARCHITECTURE AND CONSTRUCTION
DIRK E. HEBEL AND FELIX HEISEL, BIRKHÄUSER, BERLIN AND BASEL 2017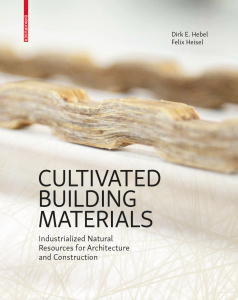 The 21st century will face a radical paradigm change in how we produce construction materials – a shift towards cultivating, breeding, raising, farming, or growing future resources. The book presents innovative cultivated building materials, like cement grown by bacteria or bamboo fibers as reinforcement for concrete. The book aims to build a bridge from scientific research to product development and application.
available at: www.degruyter.com
ADDIS 5000, DESIGN STUDIO PUBLICATION FALL 2016, 01/05
HEBEL, DIRK E., PATRICK CHLADEK, AMELIE FIBICHER, PHILIPPE JORISCH, FELIX HEISEL, SOPHIE NASH, HANS RUFER, GIAN SALIS, MARTA H. WISNIEWSKA, ZÜRICH 2017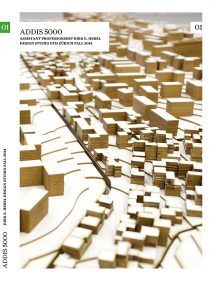 Addis 5000 proposes the creation of 5000 new living units in the Ethiopian capital of Addis Ababa in close collaboration with the city administration. Faced with an increasing unavailability of globally-favoured and expensive building materials and construction methods, the city government is in desperate need of alternative housing solutions that embody the country's long and complex history, the immense cultural identity, and the unique characteristics of a society under transformation.
available at: nb.ieb.kit.edu
RESSOURCE SCHWEIZ, DESIGN STUDIO PUBLICATION FALL 2016, 01/05
HEBEL, DIRK E., PATRICK CHLADEK, AMELIE FIBICHER, PHILIPPE JORISCH, FELIX HEISEL, SOPHIE NASH, HANS RUFER, GIAN SALIS, MARTA H. WISNIEWSKA, ZÜRICH 2017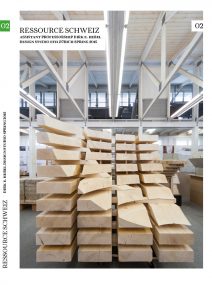 Ressource Schweiz applies the fundamental principle of exploring local possibilities and opportunities within the territory of Switzerland. Students are partnered with a Swiss craftsperson specializing in a distinct craft utilizing a unique local building material. Intensive visits to the craftsperson and associated region are required to gain an understanding of the material's application and manufacture as well as to establish a dialogue between the craftsperson, the site, the material and the student.
available at: nb.ieb.kit.edu
VILLAGE SCHOOL PROJECT CAMBODIA, DESIGN STUDIO PUBLICATION FALL 2016, 01/05
HEBEL, DIRK E., PATRICK CHLADEK, AMELIE FIBICHER, PHILIPPE JORISCH, FELIX HEISEL, SOPHIE NASH, HANS RUFER, GIAN SALIS, MARTA H. WISNIEWSKA, ZÜRICH 2017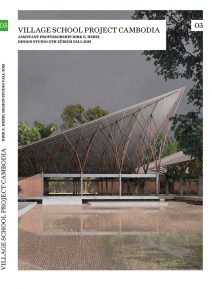 Village School Project Cambodia operates within one of the most crucial fields of sustainable action: the education sector in developing territories. Based on a thorough understanding of an appropriate pedagogical model developed in collaboration with the Pedagogical University of Applied Science in Zürich, students are asked to design an educational facility for 1000 students in a rural area, just north of the Cambodian capital Phnom Penh.
available at: nb.ieb.kit.edu
BUILDING FOR DISASSEMBLY, DESIGN STUDIO PUBLICATION FALL 2016, 01/05
HEBEL, DIRK E., PATRICK CHLADEK, AMELIE FIBICHER, PHILIPPE JORISCH, FELIX HEISEL, SOPHIE NASH, HANS RUFER, GIAN SALIS, MARTA H. WISNIEWSKA, ZÜRICH 2017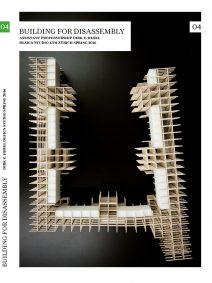 Building for Disassembly, aims to produce a paradigm shift within the construction industry. Instead of working within a linear system of "produce-use-discard", students are asked to develop new construction methods and principles which follow the concept of a circular economy. Designing for disassembly is perceived as a proactive solution to both the shortage of resources and the minimization of waste. Cities can therefore be simultaneously consumers and suppliers of resources and use themselves for their own reproduction.
available at: nb.ieb.kit.edu
LIVING LAB ZAKYNTHOS, DESIGN STUDIO PUBLICATION FALL 2016, 01/05
HEBEL, DIRK E., PATRICK CHLADEK, AMELIE FIBICHER, PHILIPPE JORISCH, FELIX HEISEL, SOPHIE NASH, HANS RUFER, GIAN SALIS, MARTA H. WISNIEWSKA, ZÜRICH 2017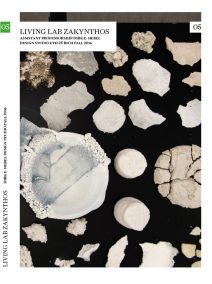 Living Lab Zakynthos asks the students the most obvious and yet most difficult question operating in the field of sustainable construction: how to define their own and individual hypothesis of the theme. Seeking clarity in this definition, students are asked to design a hotel complex on the west coast of the Greek island of Zakynthos, on a site sloping down towards the Ionic Sea.
available at: nb.ieb.kit.edu
LESSONS OF INFORMALITY: ARCHITECTURE AND URBAN PLANNING IN EMERGING TERRITORIES – CONCEPTS FROM ETHIOPIA
FELIX HEISEL AND BISRAT KIFLE (eds.), BIRKHÄUSER, BERLIN AND BASEL 2016
Never before have cities been so important. Today, cities are home to the majority of the world's population, accommodate most of global production, and are the goal of millions of migrants around the world. Yet, increasingly, our cities are growing informally, planned and built by non-professionals. Informality resembles an evolutionary process more than a simple absence of rules. In itself, informality is neither illegal, nor dysfunctional, nor indicative of poverty; in fact, its actors, skills and capital are probably our best chance to solve the world's growing housing crisis.
While informal settlements are rightly criticized for their lack of hygiene and low-level living conditions, their underlying social and cultural networks are a testimonial to the unwavering courage and resilience of their inhabitants. Equally, the associated informal economic activities proliferate and basic urban services are increasingly provided informally. Using the Ethiopian capital Addis Ababa as an example, this publication by an interdisciplinary team of authors from urbanism, sociology and architecture analyzes informal housing options as well as economic strategies such as microloan or bottom-up insurance systems. It intro-duces typical informal professions such as the Kuré-Yalew (refuse collector), who acts as an "urban miner" and contributes a valuable service to the community by recycling materials. Thus, Lessons of Informality describes an array of planning strategies and possibly even a roadmap to a resilient city in emerging territories.
The book includes a DVD of _Spaces, a series of six documentaries on informality in Addis Ababa.
available at: www.degruyter.com
CITIES OF CHANGE ADDIS ABABA, 2ND AND REVISED EDITION
DIRK HEBEL AND MARC ANGELIL (eds.), BIRKHÄUSER, BERLIN AND BASEL, 2016
Aiming to identify sustainable strategies―rather than upholding an a priori vision of an ideal city―the publication acknowledges the heterogeneous conditions of urban territories. This revised edition highlights questions of method and procedure that can be transferred to other 'cities of change', and covers recent developments, such as the increasing influence of China in African countries or the chances of high-density, low-rise developments.
available at: www.degruyter.com
SUDU – THE SUSTAINABLE URBAN DWELLING UNIT: RESEARCH AND MANUAL
DIRK E. HEBEL, MELAKESELAM MOGERS, ZARA GRAY (eds.), IN COLLABORATION WITH SOMETHING FANTASTIC, RUBY PRESS, BERLIN, 2015
SUDU―the Sustainable Urban Dwelling Unit―is a full-scale prototype for an affordable, two-story house built with local materials and traditional building techniques in Ethiopia's capital, Addis Ababa. Developed in a collaborative endeavor between the Ethiopian Institute of Architecture, Building Construction and City Development and ETH Zurich, SUDU ties in with the rich tradition of loam construction while at the same time taking a fresh look at how to adapt this tradition to contemporary needs. Recapitulating SUDU's idiosyncratic construction process in two lavishly illustrated volumes, this publication details the building techniques employed, such as rammed earth, mud bricks, and timbrel vaulting. The first volume additionally explores the history of Ethiopian architecture, the postcolonial nature of its current construction industry, and the challenges of the country's rapid urbanization. The second volume, a manual with more than 600 detailed drawings and instructions, demonstrates how to build a house, step-by-step, with the most readily available building material―earth.
available at: Ruby Press Berlin
BUILDING FROM WASTE – RECOVERED MATERIALS IN ARCHITECTURE AND CONSTRUCTION
DIRK E. HEBEL, MARTA H. WISNIEWSKA AND FELIX HEISEL (eds.), BIRKHÄSER, BERLIN AND BASEL, 2014
"Reduce, Reuse, Recycle, and Recover" is the sustainable guideline that has replaced the "Take, Make, Waste" attitude of the industrial age. Based on their competence centre in this field at the ETH Zurich and the Future Cities Laboratory in Singapore, the authors provide both a conceptual and practical look into materials and products which use waste as a renewable resource for architectural, interior, and industrial design.
This book introduces an inventory of current projects and building elements, ranging from marketed products, among them façade panels made of straw and self-healing concrete, to advanced research and development like newspaper, wood or jeans denim used as isolating fibres. Going beyond the mere recycling aspect of reused materials, it looks into innovative concepts of how materials usually regarded as waste can be processed into new construction elements. The materials and products are shown in the context of their application in built or prototypical projects. They are organized along the manufacturing processes that lend them their specific characteristics: densified, reconfigured, transformed, designed and cultivated materials.
In the second part, a product directory presents all materials and projects in this book according to their functional uses in construction: load-bearing, self-supporting, insulating, waterproofing and finishing products.
In a number of essays, the US innovator in ecological design, Mitchell Joachim, Berlin-based urban designer, Jörg Stollmann, and Sascha Peters, the author of the bestselling Material Revolution 1 and 2, provide specific insights in planning and design for a zero waste future.
available at: www.degruyter.com
CITIES OF CHANGE ADDIS ABABA, TRANSFORMATION STRATEGIES FOR URBAN TERRITORIES IN THE 21ST CENTURY
DIRK HEBEL AND MARC ANGELIL (eds.), BIRKHÄUSER, BASEL, 2009
Cities of Change Addis Ababa prioritizes the transformation of existing territories, rather than upholding a vision of an ideal city and its attendant practice of working with a "tabula-rasa". ccordingly, one of the key aspects of the work encompasses scenario planning: designing processes for potential future conditions according to varying constraints. Urban design as a discipline is reframed in view of an understanding of the city as a dynamic system, one delineated by stocks and flows of resources – with specific attention given to the fluxes of people, energy, water, material, capital, space, and information. While putting emphasis on Addis Ababa, the research brings to the forefront questions of method and procedure that can be transferred to other 'cities of change,' whether in the developing or the developed world.
With 1 book, 3 collaborating partners, 7 chapters and 13 articles, the publication follows a series of prime numbers. Whether one may read the book from the beginning to the end, whether it may just be the interest in one chapter of stocks and flows or one article of the distinct authors from Ethiopia, North America and Europe, the publication Cities of Change Addis Ababa leaves space for different interpretations and specific interest.
The research was undertaken within the Department of Architecture and the Network City and Landscape institute of the ETH Zurich in the context of the Master of Advanced Studies Program in Urban Design, led by Prof. Dr. Marc Angélil and Prof. Dirk Hebel. Both have taught architectural and urban design at universities in Europe and the United States, and their research focuses on contemporary urban transformation. Over the last years, their interest has centered on Ethiopia – one of the fastest growing nations in the world. The publication Cities of Change Addis Ababa documents the research and exposes findings to critical observations by invited authors. Dirk Hebel was also funding Scientific Director of the Ethiopian Institute of Architecture, Building Construction and City Development in Addis Ababa, Ethiopia.
available at: www.amazon.com
DEVIATIONS, DESIGNING ARCHITECTURE
DIRK HEBEL AND MARC ANGELIL (eds.), BIRKHAUSER, BASEL 2008
DEVIATIONS, a handbook and users' guide on architectural design pedagogy, pursues the covert strategy of a Trojan horse, infiltrating a given system's practices in order to transform them from within. While documenting the opening moves of the architectural design curriculum at the ETH Zurich, DEVIATIONS exposes teaching to a series of tests. It promotes a departure from the seemingly familiar and stable grounds of recognized design approaches in pursuit of more open tactics – initiating a plea for a new type of architectural practice. Rather than opposing the established order of things, DEVIATIONS embraces this order while simultaneously working both with and against manufactured conventions. Taking on the operative mechanisms of everyday practice, median standards, and normative action as the very stuff of design, concepts and techniques emerge whose foci are not based on form but on how architecture might perform.
available at: www.amazon.com
BATHROOM UNPLUGGED, ARCHITECTURE AND INTIMACY
DIRK HEBEL AND JOERG STOLLMANN (eds.), BIRKHAUSER, BASEL, 2005
The era of the bathroom as a self-contained room enclosed within our living space is drawing to a close: this hypothesis formed the basis for the work of Dirk E. Hebel and Joerg Stollmann at the Department of Architecture at the Swiss Federal Institute of Technology (ETH) in Zurich. In close collaboration with the company Dornbracht und Architonic they worked to understand the potential of modern perceptions of the body and cleanliness for architectural design. Privacy and intimacy are no longer synonymous. Actions which have long been considered private are rigorously moving into the public arena yet at the same time new strategies are constantly being developed to ensure that zones or enclaves of intimacy are safeguarded in our increasingly public private lives. This book presents seven visionary designs from students, accompanied by essays on the role of the body, cleanliness and intimacy in art and architecture.
available at: www.amazon.com
INVENTIONEERING ARCHITECTURE
DIRK HEBEL, JOERG STOLLMANN, TOBIAS KLAUSER, SASCHA DELZ, LEONARD KOCAN, gta VERLAG, ZURICH, 2005
The publication is a guidebook, a device and also an invitation to navigate through the educational land­scape of three swiss schools of architecture, presented in the exhibition Inventioneering Architecture. Reflecting and commenting on the academic student work put on display, it suggests future challenges and shows a broad spectrum of strategies of the profession, developed by numerous design and research studios.
available at: www.amazon.com