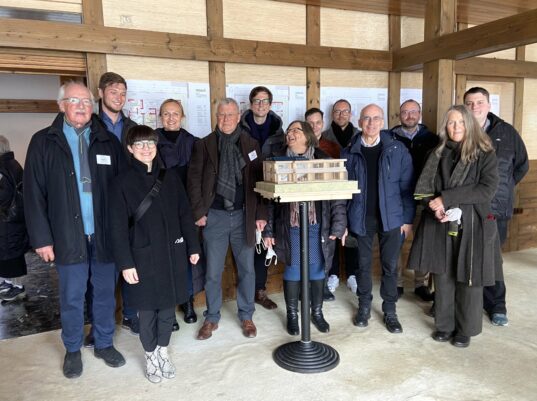 On 2 April 2022, nestbau AG Tübingen invited to an open day at the "Neschtle" in Pfrondorf. In addition to a greeting by Gunnar Laufer-Stark from nestbau AG and the presentation of the timber construction planned on site in Pfrondorf (architecture bürohauser), the event also included a small exhibition of student work from the design course "(H)Austausch!", which was created in the winter semester 2020/21 at KIT.
The students dealt with the question of how a synergetic solution can be found for the two coinciding phenomena of housing shortage (e.g. for young families who need space) on the one hand and housing overflow (e.g. due to changed life situations such as children moving out, widowhood, etc.) on the other. Architectural ideas were developed on how such a "house swap" could look like: Close-to-the-environment, adapted, attractive, but also sufficiency-oriented living space for people who are willing to leave their flats and houses that have become too big.
Daniel Lenz represented the Chair of Sustainable Building and, together with the students present, answered questions from the visitors.
(de)
Am 2. April 2022 lud die nestbau AG Tübingen zum Tag der offenen Tür ins "Neschtle" nach Pfrondorf. Die Veranstaltung umfasste neben einem Grußwort von Gunnar Laufer-Stark von der nestbau AG und der Präsentation des am Ort in Pfrondorf geplanten Holzbaus (Architektur bürohauser) auch eine kleine Ausstellung der Studierendenarbeiten des Entwurfskurses "(H)Austausch!", der im Wintersemester 2020/21 am KIT entstand.
Die Studierenden beschäftigten sich mit der Frage, wie für die beiden zusammentreffenden Phänomene Wohnungsknappheit (z.B. für junge Familien, die Platz benötigen) auf der einen Seite und Wohnraumüberfluss (z.B. durch veränderte Lebenssituationen wie Auszug der Kinder, Verwitwung, etc.) eine synergetische Lösung gefunden werden kann. Es wurden dabei architektonische Ideen entwickelt, wie solch ein "Haustausch" aussehen könnte: Umfeldnaher, angepasster, attraktiver, aber auch suffizienter Wohnraum für Menschen, die dafür bereit sind ihre zu groß gewordenen Wohnungen und Häuser zu verlassen.
Daniel Lenz vertrat die Professur Nachhaltiges Bauen und stand zusammen mit anwesenden Studierenden den Besuchern Frage und Antwort.