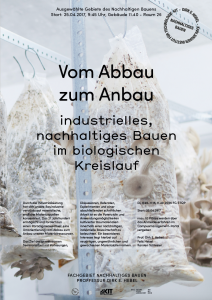 Summer Semester 2017 KIT Karlsruhe
From Mining to Cultivation
Durch die Industrialisierung hat sich unsere Bauindustrie verstärkt auf mineralische, endliche Materialquellen konzentriert. Das 21. Jahrhundert ermöglicht und fordert nun einen Paradigmenwechsel: eine Umorientierung vom Abbau zum Anbau unserer Materialressourcen. Das Ziel der gemeinsamen Seminararbeit mit Vorlesungen, Diskussionen, Referaten, Experimenten und einer abschließenden schriftlichen Arbeit ist es die Potenziale und Anwendungsmöglichkeiten kultivierter Baumaterialien innerhalb einer nachhaltigen, industrielle Bauwirtschaft zu beleuchten. Ein besonderes Interesse liegt hierbei auf neuartigen, ungewöhnlichen und gewachsenen Materialalternativen.

Fall Semester 2012 FCL Singapore
Constructing Waste
Hundreds of tons of waste are produces in Singapore every day. These wastes represent an invaluable pool of resources, which could be activated by rethinking their designs. The 'hands on the material' seminar CONSTRUCTING WASTE will interrogate the concept of up-cycling strategies in order to minimize the overall refuse amount being produced in Singapore. The focus on design questions should create second life cycles for otherwise waste products.