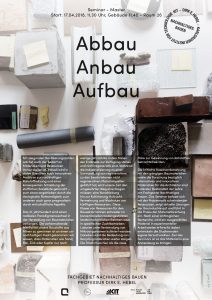 Summer Semester 2018 KIT Karlsruhe
Abbau / Anbau / Aufbau 
Mit steigenden Bevölkerungszahlen wächst auch der Bedarf an Materialien und Ressourcen immer weiter an. Aktuell wird in vielen Branchen nach innovativen Ansätzen zur nachhaltigen Rohstoffnutzung und einer konsequenten Schließung der stofflichen Kreisläufe geforscht – zum einen angetrieben durch die ökologische Notwendigkeit, zum anderen auch ganz pragmatisch durch wirtschaftliche Aspekte.
Das 21. Jahrhundert wird einen radikalen Paradigmenwechsel in der Herstellung von Baumaterialien verlangen. Die vorherrschende Mentalität unsere Baustoffe aus Minen zu gewinnen ist an einen un-nachhaltigen Punkt gekommen: wir wissen, dass Materialien wie Sand, Blei, Zink oder Kupfer nur noch wenige Jahrzehnte in den Minen der Erdkruste zur Verfügung stehen und nicht regenerativ sind. Während die Industrialisierung zu einer Umwandlung von regenerativen zu den beschriebenen nicht regenerativen Materialquellen geführt hat, wird unsere Zeit den umgekehrten Weg einschlagen müssen: eine Verschiebung hin zur Kultivierung, Aufzucht, Vermehrung und Wachstum von künftigen Ressourcen. Diese Klasse von Ressourcen für den Bausektor können entweder im konventionellen bodengestützten landwirtschaftlichen Rahmen oder in spezifischen Zuchtbetrieben/Laboren unter Verwendung von Mikroorganismen kultiviert werden. Daneben wird die Bedeutung von Recyclingmaterialien weiter steigen. Die Stadt muss hier als die neue Mine zur Gewinnung von Rohstoffen betrachtet werden.
Die kritische Auseinandersetzung mit den gängigen Baumaterialien sowie die Forschung bezüglich alternativen und innovativen Materialien für die Architektur sind konkreter Bestandteil der Lehre am Fachgebiet Nachhaltiges Bauen. Das Seminar befasst sich mit der Problematik schwindender Ressourcen, zeigt aktuelle Lösungen der Bauindustrie auf und führt in die Praxis der Materialforschung ein. Nach einer anfänglichen Recherche, wird ein ausgewähltes Material in experimenteller Arbeitsweise erforscht, dabei entwickeln die Studierenden eigene Versuchsreihen. Ziel des Seminars ist es das Material in eine Anwendung zu bringen.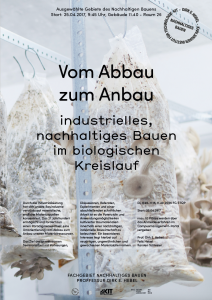 Summer Semester 2017 KIT Karlsruhe
From Mining to Cultivation
Durch die Industrialisierung hat sich unsere Bauindustrie verstärkt auf mineralische, endliche Materialquellen konzentriert. Das 21. Jahrhundert ermöglicht und fordert nun einen Paradigmenwechsel: eine Umorientierung vom Abbau zum Anbau unserer Materialressourcen. Das Ziel der gemeinsamen Seminararbeit mit Vorlesungen, Diskussionen, Referaten, Experimenten und einer abschließenden schriftlichen Arbeit ist es die Potenziale und Anwendungsmöglichkeiten kultivierter Baumaterialien innerhalb einer nachhaltigen, industrielle Bauwirtschaft zu beleuchten. Ein besonderes Interesse liegt hierbei auf neuartigen, ungewöhnlichen und gewachsenen Materialalternativen.

Fall Semester 2012 FCL Singapore
Constructing Waste
Hundreds of tons of waste are produces in Singapore every day. These wastes represent an invaluable pool of resources, which could be activated by rethinking their designs. The 'hands on the material' seminar CONSTRUCTING WASTE will interrogate the concept of up-cycling strategies in order to minimize the overall refuse amount being produced in Singapore. The focus on design questions should create second life cycles for otherwise waste products.