The Environmental Foundation of Sparkasse Pforzheim Calw honors four projects with the Umweltpreis 2023. The presentation of the prizes, worth a total of 15,000 euros, took place on March 15, 2023 at the Sparkasse in Calw. The main prize of 7,500 euros was awarded to the team from the Karlsruhe Institute of Technology (KIT) for the "NEWood" project.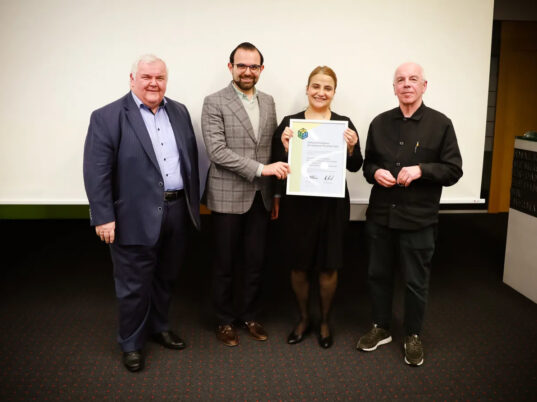 The NEWood project is about developing new bio-based, sustainable and renewable materials that can replace conventional wood products, such as particleboard. Most of the currently available wood-based products do not meet the principles of the circular economy. KIT researchers now aim to develop materials that can replace unsustainable wood products in the construction industry. Time is pressing, as forests are threatened by deforestation due to strong demand. In addition, the production of synthetic binders, which require wood products, results in CO2 emissions that accelerate climate change. From an ecological point of view, the pressure on forests should be reduced and industrial greenhouse gas emissions reduced.
The "NEWood" material developed by the KIT team belongs to a new class of biobased, resource-efficient and CO2-negative materials. It is produced exclusively from regionally available organic waste, including agricultural residues. As a sustainable and renewable material, NEWood thus offers an excellent alternative to freshly cut wood. It also has comparable properties to materials made primarily from wood fiber and glue. These include particleboard, medium-density fiberboard or multilayer board. Synthetic binders are not required for NEWood, as the new KIT material is manufactured using fungal mycelium as a natural binder. Mycelium, which is responsible for vegetative growth in fungi, provides a novel, ecologically valuable binding method for wood products. The Karlsruhe researchers are already in contact with industry. They are aiming to found a start-up that will enable the scientific findings on NEWood to be translated into industrial products.
Other award winners were:
Lukas Dufner, research associate at the University of Stuttgart, for the project "Photocatalytic drinking water treatment with sunlight", which can be used to purify contaminated drinking water in developing countries and regions with poor infrastructure.
Prof. Dr.-Ing. Klemens Gintner of the Karlsruhe University of Applied Sciences (HKA) for the first measurement of breeding parameters, which are important for the breeding of endangered birds.
The municipality of Neuhausen (Enzkreis) for setting up a "WaldKlimaPfad" (ForestClimatePath), which provides information about the consequences of global warming at play and information sites.
Text: Stiftung Umweltpreis