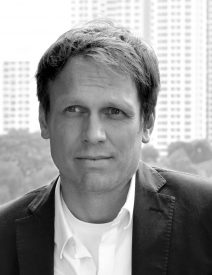 Master of Architecture, ETH Zurich, 1998
Master of Architecture, Princeton University, 2000
Location: Karlsruhe
Contact: dirk.hebel@kit.edu
Professor of Sustainable Construction KIT Karlsruhe 2017-present / Dean of the Faculty of Architecture KIT 2019-present / Principal Investigator at FCL Singapore 2012-2020 / Assistant Professor of Architecture and Construction ETH Zurich 2012-2017 / Founding Scientific Director of the Ethiopian Institute of Architecture, Building Construction and City Development EiABC 2009-2012 / Visiting Critic Cornell University 2017 / Guest Lecturer Princeton University, USA, 2008 / Guest Professor Syracuse University, USA, 2008 / Visiting Lecturer, American University of Sharjah, UAE, 2005 and 2006
Dirk E. Hebel is professor of Sustainable Construction and the Dean of the Department of Architecture at the Karlsruhe Institute of Technology, KIT, Germany. Prior to that, he was assistant professor of Architecture and Construction at ETH Zürich, Switzerland and a Principal Investigator at the Future Cities Laboratory in Singapore. He was also the founding scientific director of the Ethiopian Institute of Architecture, Building Construction and City Development in Addis Ababa, Ethiopia. He was as well guest professor at Syracuse University, guest lecturer at Princeton University, and Hans and Roger Strauch visiting critic at Cornell University.
He is the author of numerous book publications, lately Urban Mining und kreislaufgerechtes Bauen (Urban Mining and Circular Construction) (2021, Fraunhofer Verlag, with Felix Heisel), Addis Ababa: A Manifesto on African Progress (2018, Ruby Press, with Felix Heisel, Marta Wisniewska and Sophie Nash), Cultivated Building Materials (2017, Birkhäuser, with Felix Heisel), a five-book series on Design Research Studios at ETH Zürich between 2014 and 2016 (2017, ETHZ, with Felix Heisel, Patrick Chladek, Marta H. Wisniewska, Sophie Nash, et. al.), SUDU – The Sustainable Urban Dwelling Unit (2015, Ruby Press, with Melakeselam Moges and Zara Gray), Building from Waste: Recovered Materials in Architecture and Construction (2014, Birkhäuser, with Marta H. Wisniewska and Felix Heisel), and Cities of Change: Addis Ababa (2009/2016 (2nd revised edition), Birkhäuser, with Marc Angélil). In 2008, he published the book Deviations (2008, Birkhäuser, with Marc Angélil), an experiment in architectural design pedagogy and in 2005 Bathroom Unplugged (2005, Birkhäuser, with Jörg Stollmann).
Currently, Dirk E. Hebel is co-founder and partner of 2hs Architekten und Ingenieur PartGmbB Hebel Heisel Schlesier, practicing architecture with a focus on resource-respectful construction methods and materials. He was also one of the founding partners of INSTANT Architects (2002-2008). Latest building projects include the Mehr.Wert Pavillion for the BUGA Heilbronn (2019 2hs, Simon Sommer, Lisa Krämer, Philipp Staab, Sophie Welter und Katna Wiese); the UMAR (Urban Mining and Recycling) project in Zürich for EMPA Dübendorf (2018 together with Werner Sobek and Felix Heisel); MycoTree, a project for the Seoul Architecture Biennale (2017 with Felix Heisel, Karsten Schlesier, Nazanin Saeidi and Alireza Javadian in cooperation with the Block Research Group Zürich, Philippe Block, Matthias Rippmann and Juney Lee); a school house complex for 1200 students in Cambodia for the NGO Smiling Gecko (2016-2018 together with Lisa Devenoge, Lorine Grossenbacher, Franziska Matt, Elizabeth Müller, Alina Wyder, and Marcel Aubert), the New York Waste Vault for IDEAS CITIES (2015 with Felix Heisel, Samuel P. Smith, Nicholas Ashby, Ruben Bernegger in cooperation with the Block Research Group Zürich, Philippe Block, Tomas Mendez Echenagucia); DISCOVERIES, an exhibition for the Foundation Lindau Nobel Prize Winners with Tobias Klauser; ON_AIR, an installation for KunstWerke Berlin; the award-winning project UNITED_BOTTLE; and HausBlick Düsseldorf, all with Jörg Stollmann, INSANT Architects, 2002-2008.
His work has been shown in numerous exhibitions worldwide, lately in SORGE UM DEN BESTAND, BDA, Berlin and others, 2020/21, CRITICAL ZONES, ZKM Karlsruhe (2020), FUTURIUM Berlin (2019), the Beazly-Design of the Year Exhibition (2018), The Design Museum London (2018), Fibre Fixed: Composites in Design Exhibition, Design Museum Gent (2018), ORGATEC, Köln (2018), Super Materials London (2017), UK, the Design Fair Cologne (2017), Köln, the Seoul Architecture Biennale (2017), South Korea, or the Venice Architecture Biennale (2021/2018/2016), Italy. He received the Green Solution Award 2021, one of the German Material Awards 2019, two Innovation Awards "Bauhaus 100 – Prototyping the Future" organized by the Federal German Government and German Industry in 2019, the New York Van Alen Institute Fellowship Award, the Red Dot Design Award for Best Conceptual Design, the SMART Innovation Grant Singapore, the JEC Asia Innovation Award, a ZUMTOBEL GROUP Award, the Suzanne Underwood Award for Best Design, and the LANXESS Award Singapore. He was also awarded the KIT Best Teaching Award, Department of Architecture, 2019.