Opening on 2nd September 2017, the Seoul Biennale of Architecture and Urbanism is entitles Imminent Commons:
In an age of environmental decay and unprecedented wealth inequality, the cities of the world gather in Seoul to explore the urban parliaments where the politics of resources and technologies is enacted. The Seoul Biennale of Architecture and Urbanism 2017 is an experimental platform for an imminent urbanism that goes beyond human-centered function, ownership, and consumption to a commons of resources, technologies, and production.
The cities of the world stand at a crossroads. Amidst radical social, economic, and technological transformations, will the city become a driving force of creativity and sustainability or will it be a mechanism of inequality and environmental decay? Cities are not only the drivers of social change but are now modifying ecosystems, geological structures, and even the climate. For the first time in history, the crucial questions of the city — climate change, biodiversity, air pollution, food security, automation, unemployment and inequality— are driven by concerns beyond human control and threaten the very survival of the planet.
The inaugural Seoul Biennale of Architecture and Urbanism proposes nine essential commons as a viable path towards a sustainable and just urbanism. Emerging from both ecological and technological concerns, this framework foregrounds an exploration not of distant utopias but of the very near future. In other words, these emerging commons are already changing the way we live in cities. Whether met with fear or hope, they will very soon change the way we live in the city. The Seoul Biennale provides a platform for an international array of participants – politicians, policy makers, experts, and citizens at large – presenting global research and engaging with local conditions.
Four Ecology Commons: Air, Water, Fire, Earth
Five Technology Commons: Making, Moving, Communicating, Sensing, Recycling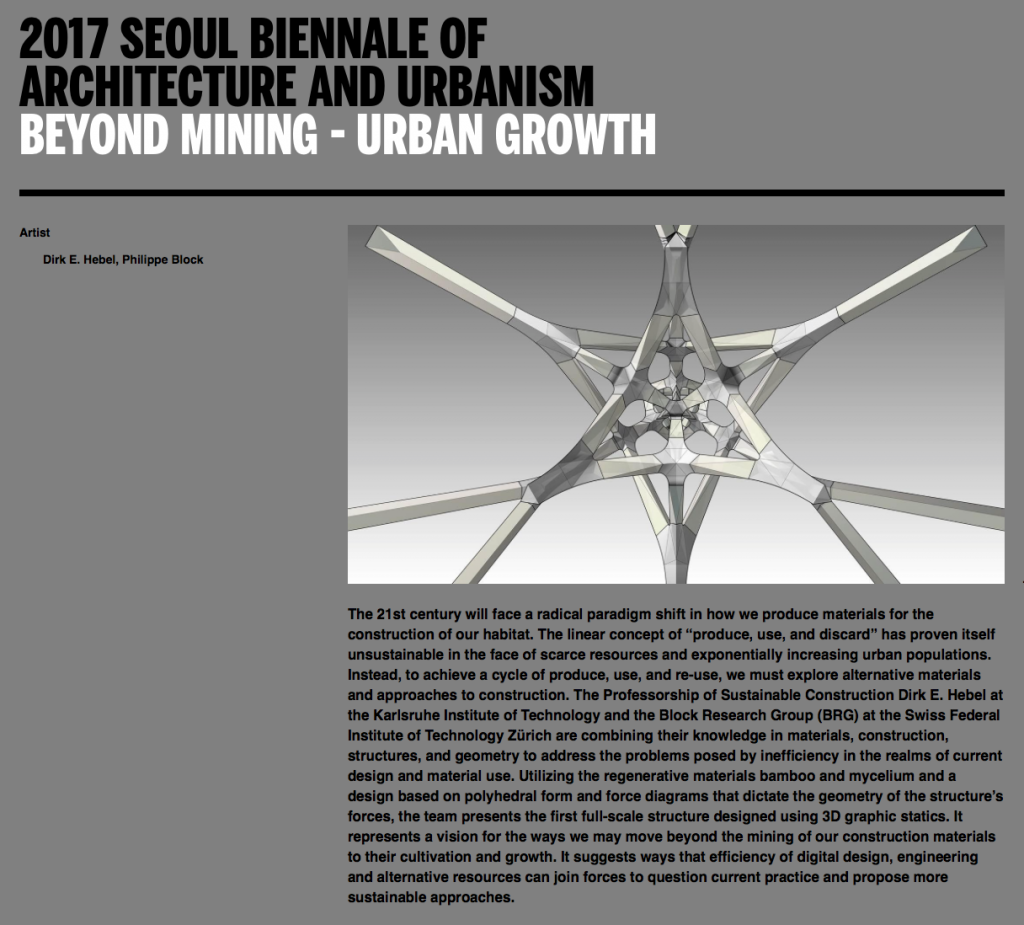 The exhibition Beyond Mining – Urban Growth by the Professorships Dirk E. Hebel and Philippe Block is part of the Common Earth and will be on display in Pavilion i7 at the Donuimun Museum Village from 2nd September to 5th November 2017.
More information can be found here: http://seoulbiennale.org