Resource-efficient housing concepts for a growing city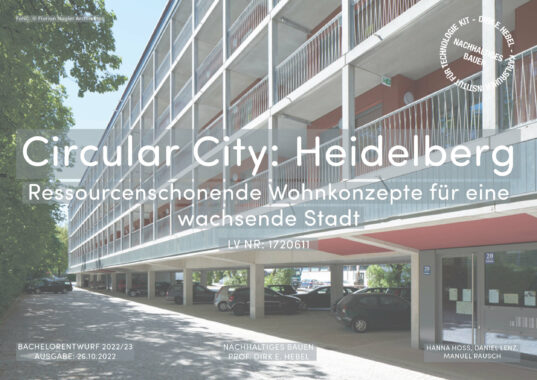 Cities play a crucial role in the struggle for a sustainable and climate-friendly future. This is where housing, production, trade, transport and energy consumption all come together. In addition, our cities are gigantic stores of raw materials. In some areas, the resources tied up in the current building stock have long since exceeded the raw material deposits that can be reached with reasonable effort in the earth's crust. This urban mine needs to be tapped.
The city of Heidelberg has set itself ambitious sustainability goals and wants to lead the way as a pioneer of the circular economy in urban development and urban planning. To this end, among other things, the project "Circular City – Building Material Cadastre for the City of Heidelberg" was launched, with which the city is relying on the urban mining principle. The building stock is being successively recorded and analyzed so that the data obtained can be made available to planners.
This semester, we will investigate how the application of circular building production and the use of materials from urban mining can succeed architecturally, using different design locations in Heidelberg.
The design will take place in collaboration with the integrated disciplines of structural engineering (Prof. Riccardo La Magna), FBTA (Prof. Andreas Wagner), and building economics (Hon. Prof. Kai Fischer).
1st meeting: 26.10.22 in the studio
Interim critique: 14./15.12.2022
Table critique: 25./26.01.2023
Submission/Presentation: 23.02.2023