Contemporary living in the historic Henkel lace factory in Wuppertal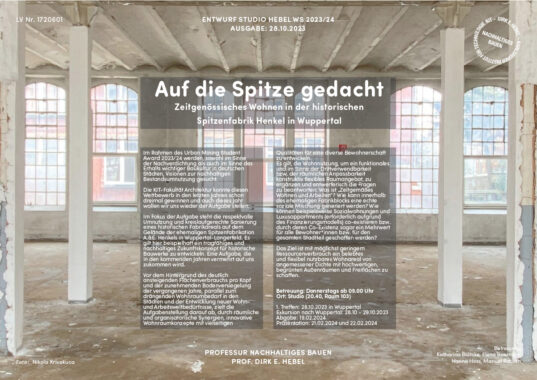 As part of the Urban Mining Student Award 2023/24, visions for the sustainable use of existing buildings are being sought, both in the sense of redensification and in the sense of preserving important building culture in German cities. The KIT Faculty of Architecture has already won this competition three times in recent years and this year we want to take on the task again.
The focus of the task is the respectful conversion and cycle-compatible redevelopment of a historic factory site on the grounds of the former lace factory A.&E. Henkels in Wuppertal-Langerfeld. The task here is to develop an exemplary, viable and sustainable future concept for historic buildings. This is a task that will increasingly face us in the coming years.

Against the background of the significant increase in land consumption per capita and the increasing soil sealing of recent years, parallel to the urgent need for housing in the cities and the development of new living and working environment requirements, the task aims to develop innovative housing concepts with versatile qualities for a diverse population through spatial and organisational synergies.
The aim is to complement the residential use with a functional and constructively flexible range of spaces that can be used by third parties or adapted spatially, and to answer the design questions: What is "contemporary living and working"? How can a real social mix be generated within the former factory block? How can, for example, social housing and luxury apartments (necessary due to the financing model) co-exist or even create added value for all residents or for the entire district through their co-existence? The goal is to create a lively and flexibly usable residential area of appropriate density with high-quality, greened outdoor spaces and open spaces using as few resources as possible.
Supervised by: Katharina Blümke, Elena Boerman, Hanna Hoss, Manuel Rausch
Supervision: Thursdays from 09.00
Location: Studio (20.40, room 103)
1st meeting: 28.10.2023 in Wuppertal
Excursion to Wuppertal: 28.10 – 29.10.2023
Submission: 19.02.2024
Presentation: 21.02.2024 and 22.02.2024