A laboratory for future building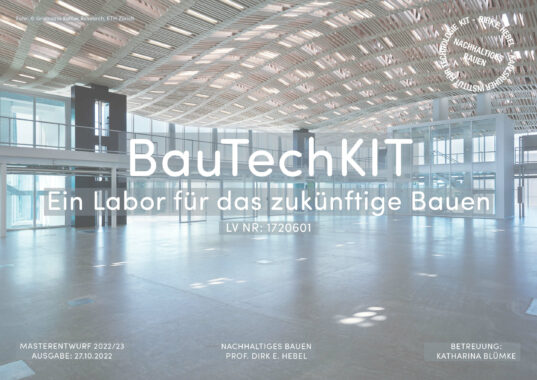 The Faculty of Architecture and the Department IV Natural and Built Environment of KIT have set themselves the goal to become a pioneer of circular and sustainable building in Germany and Europe. This requires a new research, teaching and experimental laboratory for future building, in which research, teaching and practical applications can be interlinked and practiced. 
Topics of sustainable building should not only be researched, but the building should already show and demonstrate them. The laboratory is to become a showcase for research into future building for the entire society and an attractor for the city of Karlsruhe.
The semester task is to develop a construction laboratory located in area 10 on the south campus. An urban planning study is part of the task. A large ground-level hall is required, in which new possibilities for future construction will be researched with the help of digital manufacturing processes and robotics, and experimental buildings will be erected. Above the hall, teaching and learning spaces for students and researchers are to be created with common zones for exchange and networking. On the roof area, individual research and innovation modules are to be installed according to the "plug-in" principle and can be dismantled again simply and easily. People will live and work in these changing units, so that they serve as busy experimental laboratories and at the same time shape and constantly change the appearance of the building.
Day and time: Thursdays, 9:00
1st meeting: 27.10.2022
Excursion to Zurich on 04.11.2022