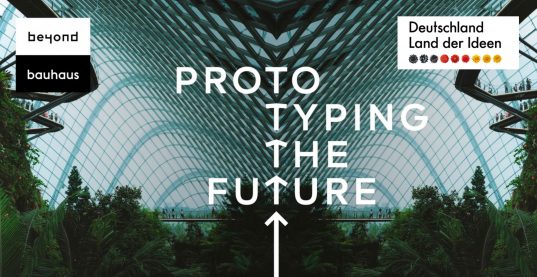 The international competition "beyond bauhaus – prototyping the future", sought ground-breaking design ideas and concepts that address a socially relevant topic and provide creative answers to the pressing questions of our time. Almost 1500 projects coming from 50 countries applied for an award. The 20 award winners convinced the international jury with their ideas and concepts. The spectrum of entries reflects the challenges of our time: it ranges from food cultivation on the water to individually dosed medicine and new technologies for urban development to sustainable building materials. The Professorship of Sustainable Construction Dirk E. Hebel together with Philippe Block and Juney Lee from ETH Zürich (Mycotree) and Werner Sobek and Bernd Köhler from the Werner Sobek Group Stuttgart (UMAR) won two of the awards.

Renewable building material for the city of tomorrow
Steel and concrete—these are the first materials that come to mind when one thinks about building. But our resources are finite, which is why construction must break new ground. Scientists at the Karlsruhe Institute of Technology (KIT) and the Swiss Federal Institute of Technology in Zurich (ETH) with its research outpost FCL in Singapore are leading the way by researching alternatives to conventional building materials. A result of years of research is "MycoTree", a self-supporting structure made of fungal mycelium and bamboo. Design Team: KIT: Dirk E. Hebel, Felix Heisel, Karsten Schlesier, ETHZ: Philippe Block, Juney Lee, Matthias Rippmann, Tomas Mendez Echenagucia, Andrew Liew, Noelle Paulson, Tom van Mele, SEC/FCL: Nazanin Saeidi, Alireza Javadian, Adi Reza Nugroho, Robbi Zidna Ilman, Erlambang Adjidarma, Ronaldiaz Hartantyo, Hokie Christian, Orion Tan, Sheng Yu, Kelly Cooper
Closed material cycles in civil engineering
The world's natural resources are limited, which is why we need to rethink how we use and reuse everything — away from linear material-consumption and towards an economy of recycling. The Urban Mining and Recycling (UMAR) housing and research unit of the Swiss research institute Empa at "NEST" is demonstrating what this paradigm shift in the construction industry might look like. Architects Werner Sobek, Dirk E. Hebel and Felix Heisel have come up with a building concept that uses entirely separable resources, either reusable or compostable: mortar-free, folding walls made of recycled demolition debris, bathroom cladding made of recycled plastic chopping-boards, or mushroom mycelium as compostable wall-insulation. UMAR is thus not only a material laboratory but also a material depot. It is also proof that responsible use of natural resources and modern architecture can go hand in hand. Design Team: Werner Sobek mit Dirk E. Hebel und Felix Heisel, Bernd Köhler, Frank Heinlein

More information here.