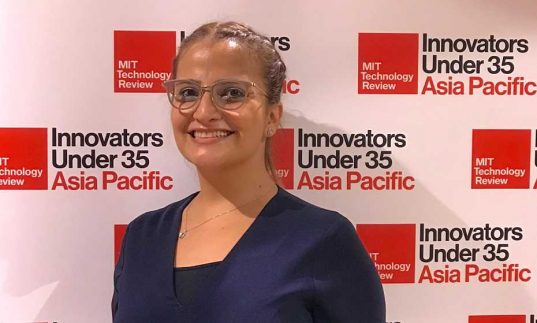 Dr Nazanin Saedi, as of April 2020 part of the KIT research team at the Professorship of Sustainable Construction, was named one of the 20 emerging innovators in Asia Pacific by MIT Technology Review for her work on sustainable construction materials.

Dr Nazanin Saeidi is among MIT Technology Review's '20 Innovators Under 35' for the Asia Pacific region. In association with EmTech Asia 2020, the list celebrates 20 researchers, inventors, and entrepreneurs who are changing the world. As postdoctoral researcher in the Alternative Construction Materials project headed by Prof. Dirk E. Hebel at the Future Cities Laboratory in Singapore, Dr Saedi works on transforming organic waste, specifically mycellium, to create a mycelium-​bound composite material for the construction industry. She is among awardees selected from a pool of 200 exceptional candidates, including researchers, inventors, and entrepreneurs whose work include applications in agriculture, artificial intelligence, biomedicine, construction, energy, new materials, robotics, and water.

"The 20 'Innovators Under 35' are a group of exceptional young scientists pursuing research that — in many cases — relates to substantial challenges facing humanity. The potential impact of their research is further increased when it becomes the foundation of one or more products that form the core of a Deep Tech startup," said Steve Leonard, Founding CEO, SGInnovate.