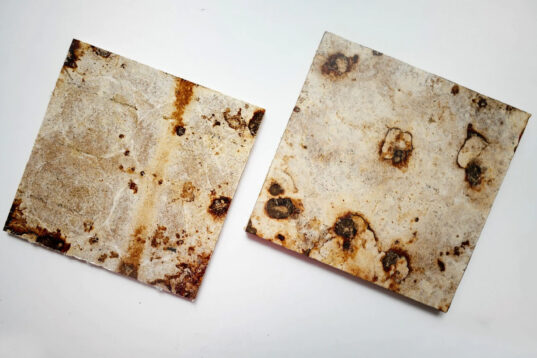 165 projects from 54 universities took part in this year's competitionline CAMPUS Award. The spectrum of topics ranged from utopias for urban development and material studies to adaptive architecture and after-use strategies. The proportion of projects dealing with sustainable design tasks such as the conversion of existing buildings, climate adaptation in cities or research into alternative materials was particularly high.
In addition to two student award-winning projects, which went to the TU Munich and Leibniz Universität Hannover, and two award-winning final theses from the Kunstakademie Düsseldorf and the University of Stuttgart, one faculty project also received an award.
From nine projects submitted, the jury selected the work "NEWood, a 100% bio-based, sustainable and recyclable material alternative to wood-based products" as the winner. The research by the Institute of Design and Construction Technology at the Karlsruhe Institute of Technology resulted in the "development of a new class of bio-based, resource-efficient and CO2-negative materials." As an alternative to particleboard, MDF and OSB, the boards are made exclusively from wood and agricultural waste. Mushroom mycelium is used as a natural binder, so no synthetic binders are required.
The research project shows that NEWood has comparable properties to wood-based materials such as MDF, OSB and particleboard. The use of mycelium, the structural part of fungi, is a novel bonding method that enables the production of a 100% bio-based and fully recyclable alternative to wood-based materials. The project team, consisting of Dr. Alireza Javadian, Dr. Nazanin Saeidi and Prof. Dirk E. Hebel, is convinced that "NEWood" will be a sustainable alternative to conventional MDF and particleboard and has the potential to initiate a paradigm shift in the way we produce our future building materials in terms of the circular economy without leaving any waste behind.
More information here.