The German Sustainable Building Council (DGNB) announced the winners of this year's Sustainability Challenge at the DGNB Sustainability Day in Fellbach on 8 July. In the category "Research", the project "NEWood" lead by Nazanin Saeidi and Alireza Javadian from the Professorship of Sustainable Construction Dirk E. Hebel at KIT in Karlsruhe, came out on top.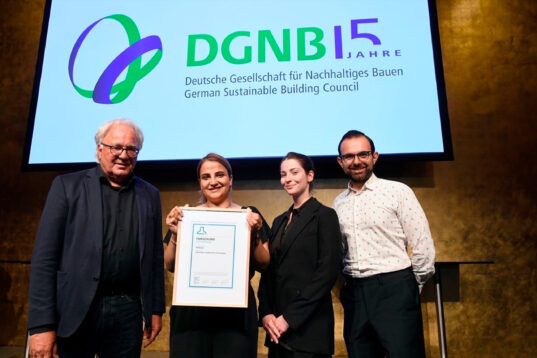 Among the start-ups, the jury chose mygreentop. The "Innovation" category was won by Home Power Solutions with picea. The audience award went to the research project "Kalkspeicher" from the German Aerospace Centre (DLR). A total of more than 100 projects and companies entered the DGNB Sustainability Challenge this year.
The selection of the award winners in the DGNB Sustainability Challenge was different this year than in the past. In addition to the finalists, the eleven-member jury also directly determined the winners in the categories "Innovation", "Start-up" and "Research".
"The decision was enormously difficult for us as a jury," says Dr. Christine Lemaitre, Executive Director of the DGNB and part of the selection committee. "All the finalists presented themselves excellently, which is why I can only congratulate them all. They are the best proof that there are smart, forward-thinking people in our industry who can combine sustainability with innovation."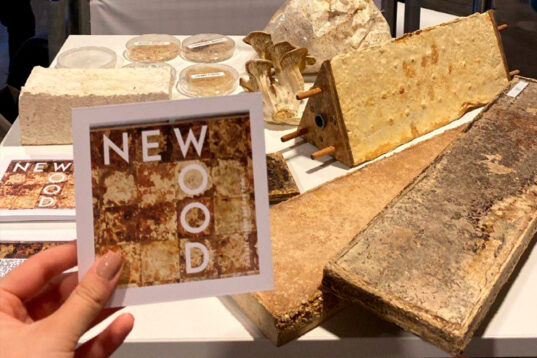 The "NEWood" project is a novel class of bio-based, resource-efficient and CO2-negative materials based on mycelium. Since NEWood shows comparable properties to MDF and chipboard, it serves as a substitute for wood and wood-based materials. The wood alternative is developed exclusively from available organic waste, including wood and agricultural waste, and is manufactured using fungal mycelium as a natural binder.
This year, the jury was made up of Dr Anna Braune (DGNB), Gerhard Breitschaft (Deutsches Institut für Bautechnik), Dominik Campanella (Concular), Prof. Moritz Fleischmann (Düsseldorf University of Applied Sciences), Prof. Andrea Klinge (ZRS Architekten), Dr Christine Lemaitre (DGNB), Martin Prösler (Proesler Kommunikation), Martin Rodeck (EDGE Technologies), Prof. Dr.-Ing. Ing. Anja Rosen (Bergische Universität Wuppertal), Prof. Dr.-Ing. Patrick Teuffel (Eindhoven University of Technology), and Prof. Meike Weber (Hildesheim University of Applied Sciences and Arts).
More information on all award winners and finalists is available online in the DGNB press release or on the DGNB blog. (Text © DGNB)