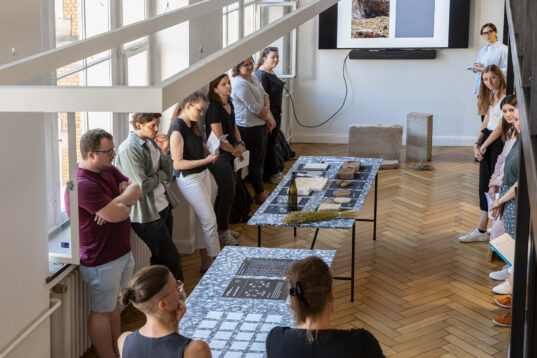 On 18 July 2023, the day the KIT Materials Library reopened, the first event in the new premises already took place with the final presentation of the research seminar "Future-Oriented Materials".
The students had worked intensively in groups on five materials each, so that they actively contributed to the material library through their research and also gained insights into the work in the backend of the material database. In addition, there were exciting input lectures and even a workshop in which the material hemp-lime was worked with. The result of the seminar was 30 material data sets, which will be fed into the future cooperatively operated database not only at KIT but also within the Germany-wide cooperation of the "Material Library of German Universities MDH".
In addition, the students designed an exhibition that contains material samples and data sheets as well as the appropriate raw materials for the materials, a self-designed game and further material comparisons.
We are very happy about this very good work in the seminar and the high commitment of the students. The exhibition described can now be visited in the KIT Material Library.