A Research Seminar of the KIT Material Library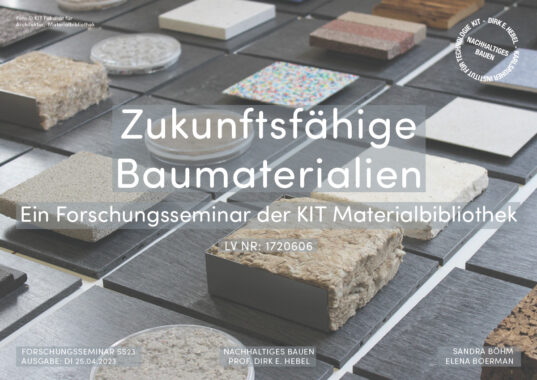 The Materials Library of the Faculty of Architecture at KIT, which is currently being reorganised as part of the "Materialbibliothek Deutscher Hochschulen" cooperation, offers an extensive collection of materials that, in addition to conventional building materials, focuses on building materials made from secondary raw materials, alternative biotic raw materials and recyclable building materials.

As a pioneer of sustainable building, this special group of materials makes it possible for future generations of architects to understand the value of purity, the necessity of using secondary materials and the preservation of value in the case of reuse or recycling.

In the research seminar Future-oriented Building Materials, Master's students gain a detailed insight into this class of novel, endlessly circulating building materials. The seminar is accompanied by individual supervision, joint discussion rounds on specific topics, input lectures and excursions. However, the focus is on the students' independent scientific research work, which aims to provide detailed descriptions of the materials. In this context, the students can work on the new KIT material database and enter data directly. In this way, the students are actively involved in building up the database. The seminar will conclude with an exhibition in the materials library. On display will be the data sets created by the students with the corresponding material samples of innovative, sustainable materials for the construction industry.
First Meeting: 25.04.23
Regular date: Tuesday, 10:00 a.m., Building 11.40, R 26
Excursion: 16.05.23 (more planned)
Participants: 12 master students