Research Seminar / Sustainable Construction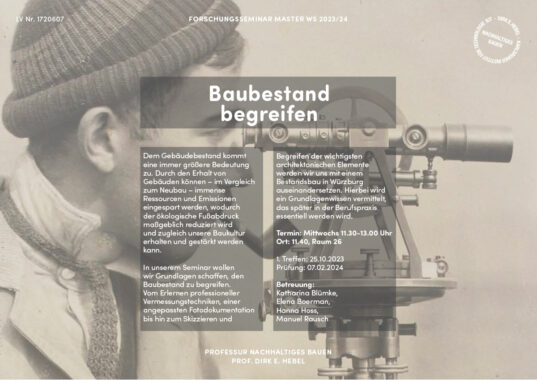 The building stock is becoming increasingly important. Through the preservation of buildings – compared to new construction – immense resources and emissions can be saved, which significantly reduces the ecological footprint and at the same time preserves and strengthens our building culture.
In our seminar we want to lay the basics for understanding the existing building stock. From learning professional measuring techniques and adapted photo documentation to sketching and understanding the most important architectural elements, we will look at an existing building in Würzburg. In the process, a basic knowledge is taught that will later become essential in professional practice.
Supervised by: Katharina Blümke, Elena Boerman, Hanna Hoss, Manuel Rausch
Date: Wednesdays 11.30-13.00
Location: 11.40, Room 26
1st meeting: 25.10.2023
Exam: 07.02.2024