A round trip among traditional and future building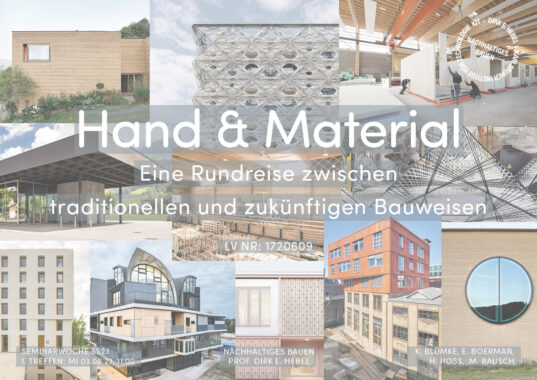 In the seminar week we want to take a round trip between traditional and future building methods and explore the connections of hand and material.
We want to look at new manufacturing techniques in craftsmanship and technology, their interdependencies and dare a look into the future of construction towards digital fabrication. The journey will take us from Karlsruhe, via Stuttgart to the alpine foothills and then via Zurich and Laufen back to Baden.
Some of the costs will have to be covered by the students themselves. We are striving to keep this part as low as possible.
Site:
Karlsruhe, Kernen, Reutlingen, Bregenz, Reuthe, Andelsbuch, Schlins, Lustenau, Winterthur, Dübendorf, Zürich, Laufen, Karlsruhe.
Number of Participants:
20 students, Bachelor / Master