The Urban Mining and Recycling unit (UMAR) in NEST was listed as a showcase project of circular construction by the New European Bauhaus on 6th April 2021. The project shows how a responsible approach to dealing with our natural resources can also go hand in hand with an appealing architectural form. Life-cycle thinking has led the design process: all the resources required to construct the unit are fully reusable, recyclable, or compostable.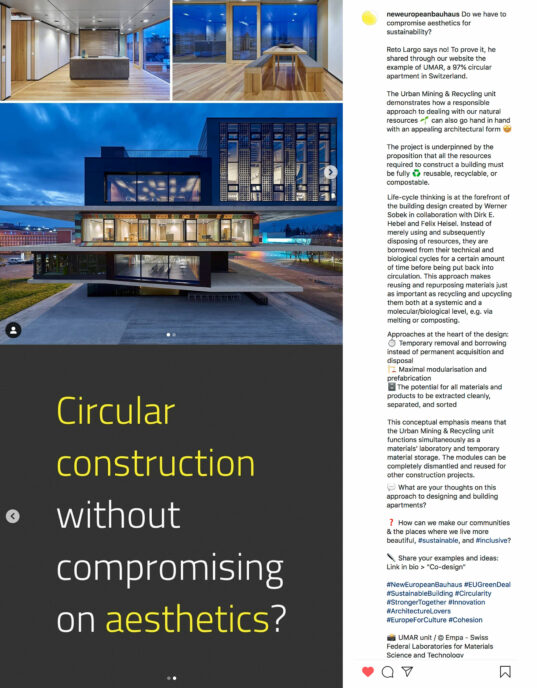 The Urban Mining and Recycling housing and research unit in NEST, the modular Research and Innovation Building of Empa in Dübendorf (Switzerland), is demonstrating what a paradigm shift in the construction industry reacting to the limitation of the world's natural resources might look like. Turning away from linear material-consumption and towards an economy of material recycling, multiple use, alternative construction methods and the use of entirely separable materials – UMAR works as a material laboratory but also as a material depot. It is a proof that the responsible use of natural resources, the recycling of materials and modern architecture can go hand in hand.
The building design was created by Werner Sobek in collaboration with Dirk E. Hebel and Felix Heisel, Bernd Köhler and Frank Heinlein.
Visit the Urban Mining and Recycling (UMAR) website here.
Learn more about the New European Bauhaus on their website or on Instagram.